JKDM420 Nema 8 11 14 16 17 Stepper Motor Driver
Product Description:
Main features:
Product Type: Nema8 - Nema17 Stepper Motor
Feature summary:High start speed; High hording torque under high speed; High performance, low price
Place of Origin:china
Minimum order quantity:10pcs
Support Motor: Nema8 - Nema17 Stepper Motor
Packing:The sample is packed in carton,the batch with plastic pallet
Delivery time:Standard product: 7-10days
Customized product: 25-30days
Transaction mode:EXW, FOB, FCA, CIF, FAS, CFR, CPT, CIP, DAF, DEQ, DDU, DDP...
Mechanical Size: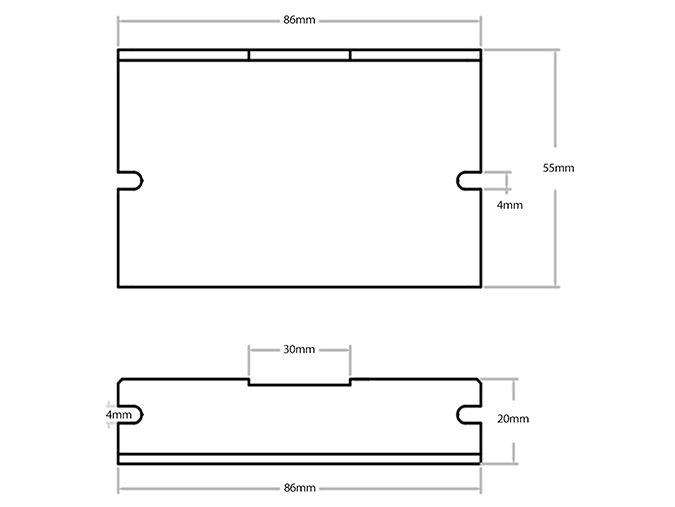 Overview:
Electrical Specifications:

Parameter

Voltage

Input Voltage

18~30V

Output Current

0.3A~2.0A

Subdivision Setting

8 settings (400~12800)

Storage Environment

-20~+18℃
Interface description

GND

DC power grounding

0V

VDC

DC power positive

+18V~30V

A+、A-

Motor A phase coil interface

/

B+、B-

Motor B phase coil interface

/

PUL-

Pulse signal

/

DIR-

Direction signal

/

VCC

Pulse Direction Enable Power

/

ENA-

Enable signal

/
Subdivision setting

Pulse

400

800

1600

3200

6400

12800

4000

8000

SW4

on

off

on

off

on

off

on

off

SW5

on

on

off

off

on

on

off

off

SW6

on

on

on

on

off

off

off

off
DIP switch setting

SW1

SW2

SW3

PEAK (A)

RMS(A)

on

on

on

0.3A

0.21A

off

on

on

0.5A

0.35A

on

off

on

0.7A

0.5A

off

off

on

1.0A

0.71A

on

on

off

1.3A

0.92A

off

on

off

1.6A

1.13A

on

off

off

1.9A

1.34A

off

off

off

2.0A

1.42A
Customized Design:
If this product do not match with your request. Please feel free to contact with us,We can make customized shaft / winding / mounting flange / cable / connector / Encoder / Brake / Gearbox and others. We will works side-by-side with you and your team to design a motor that will fit the precise needs of your application. All Engineering and Support is done in-house.
FAQS:
1. How can get it started as soon as possible when you first use the drive?
After you correctly connect the power cord, the motor line, the Hall line, the external potentiometer slowly accelerates. After the motor is turned correctly, you can test the enable, direction and other functions. If you are unfamiliar with the product, the initial use should be done after the test. And then it can be installed to the actual use.
2. What will come about if power supply is reverse?
It will immediately burn the drive.
3. What is the maximum of the upper control signal voltage ?
The maximum voltage of the speed regulation signal is 5V. Exceeding this voltage will cause the drive to burn.
4. After the driver has been working for a long time, the shell is hot. Is it normal?
Yes, it is. At room temperature, after long working hours, it is up to 90 degrees. And it will not affect the performance.
5. The power indicator is light, but the motor does not turn and shift, what is the reason?
There may be a mistake in the phase line and the Hall line. Please re-energize the wiring according to the motor manual.
6. Can my motor speed transferred to 6000 with this drive?
The maximum speed of the brushless motor is determined by the parameters of the motor itself. The drive can control the motor speed from 0 to the highest speed.
7. I already have a motor and how to install this drive after wiring?
You must first determine the motor phase and the definition of the Hall line, and then you can connect it with wires. If you are not sure, you need to ask the motor manufacturers. Incorrect wiring can cause damage to the drive.
8. Can I add some features on this drive or do new product development?
Yes, please contact us.