Model: JKIDS57 57mm DC Servo Motor with Integrated Driver 24V / 36V / 48V BLDC Motor with Integrated Controller / Driver Support RS485 / Canopen
Integrated DC Servo Motor Product Parameters:
Product Type: JKIDS57-P03A Integrated Brushless DC Servo Motor
Size:57x57mm integrated bldc motor
Place of Origin:china
Minimum order quantity:10pcs
Material Science:stator, rotor, stainless steel shaft, copper wire, magnetic steel...
Feature summary: Low Inertia,Quick Feedback; High Torque,High Efficiency; Small Vibration,Low Noise
Packing:The sample is packed in carton,the batch with plastic pallet
Delivery time:Standard product: 7-10days
Customized product: 25-30days
Transaction mode:EXW, FOB, FCA, CIF, FAS, CFR, CPT, CIP, DAF, DEQ, DDU, DDP...
APPLICATION:Medical equipment: medical pumps, stirring instruments, peristaltic pumps, biopharmaceutical equipment. Industrial equipment: winding machines, printing machines, robots, grinding, cutting, drilling, automatic conveying systems, automatic positioning systems, level control systems, electric actuators, electric valves, vending machines.
Electrical Specification:
Model

Power (W)

Rated Voltage (VDC)

Rated Current (A)

Rated Speed (rpm)

Rated Torque (N.m)

Body Length L (mm)

Encoder

communication protocol (choose)

JKIDS57-P01A

91

24/36

3.5

3000

0.29

101

17bit

Pulse/RS485

CANopen

JKIDS57-P02A

140

24/36

5.4

3000

0.45

121

17bit

Pulse/RS485

CANopen

JKIDS57-P03A

200

36/48

7.5

3000

0.64

141

17bit

Pulse/RS485

CANopen
Note: Above only for representative products (bldc motor integrated controller), products of special request can be made according to the customer request.

24v / 36v / 48v Integrated Servo Motor Product Dimensions: (Unit=mm)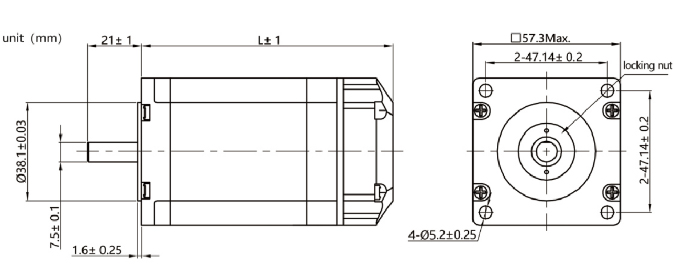 Other Integrated Dc Motor Link:
42mm 24V 26W to 80W integrated dc servo motor
60mm 24V / 36V/ 48V 100W / 200W / 400W integrated dc servo motor
Customized Design:
If this motor do not match with your request. Please feel free to contact with us,We can make customized shaft / winding / mounting flange / cable / connector / Encoder / Brake / Gearbox and others. We will works side-by-side with you and your team to design a motor that will fit the precise needs of your application. All Engineering and Support is done in-house.
Customized Shaft Types: