Model: Nema 17 Ball Screw Stepper Motor Linear Actuator With Lead Screw-JK28HS (1.8 degree)

Lead screws are often used in stepper motor actuators, for a cost-effect, easy-to-use linear motion solution. But stepper motors can also be used to drive ball screws.
A lead screw is sometimes referred to as a "power screw" or a "translation screw". They are used within motion control devices to transform rotary or turning movements into linear movements.
A lead screw turns rotary motion into linear motion combining a screw and a nut where the screw thread is in direct contact with the nut thread. In the case of roller screws, the rollers rather than the nut are in direct contact with the screw thread offering greater efficiency.
1、General Specification of Nema 17 Ball Screw Stepper Motor:

Model No.

Step Angle

Motor Length

Current

/Phase

Resistance

/Phase

Inductance

/Phase

Holding Torque

# of Leads

Detent Torque

Rotor Inertia

Mass

( °)

(L)mm

A

Ω

mH

N.m

No.

g.cm

g.cm2

Kg

JK42HS25-0404

1.8

25

0.4

24

36

1.8

4

75

20

0.15

JK42HS34-1334

1.8

34

1.33

2.1

2.5

2.2

4

120

34

0.22

JK42HS40-1684

1.8

40

1.68

1.65

3.2

3.6

4

150

54

0.28

JK42HS48-1684

1.8

48

1.68

1.65

2.8

4.4

4

260

68

0.35

JK42HS60-1004

1.8

60

1.0

8

13

7.5

4

280

102

0.5
2、Product Parameters of 42BYGH Lead Screw Stepper Motor Linear Actuators:
Product Type: Nema 17 42mm Stepper Motor with Ball Screw
Size:42x42mm
Place of Origin:china
Minimum order quantity:10pcs
Material Science:stator, rotor, stainless steel shaft, copper wire, magnetic steel...
Feature summary: Low Inertia,Quick Feedback; High Torque,High Efficiency; Small Vibration,Low Noise
Packing:The sample is packed in carton,the batch with plastic pallet
Delivery time:Standard product: 7-10days
Customized product: 25-30days
Transaction mode:EXW, FOB, FCA, CIF, FAS, CFR, CPT, CIP, DAF, DEQ, DDU, DDP...
APPLICATION:JKONGMOTOR linear stepping motor is a motor that converts electrical pulse signals into corresponding angular displacements or linear displacements. This small linear actuator stepper motor can be widely used in various fields, such as a 3D printer, stage lighting, laser engraving, textile machinery, medical equipment, automation equipment, etc.
3、Drawing of Ball Screw for Stepper Motor:
(1)、SFU Single Nut Series:

(2)、DFU Double Nut Series:


(3)、SFS Quiet Single Nut Series:

(4)、SFE Big Lead Single Nut Series:

4、Different Stepper Motor With Ball Screw Design: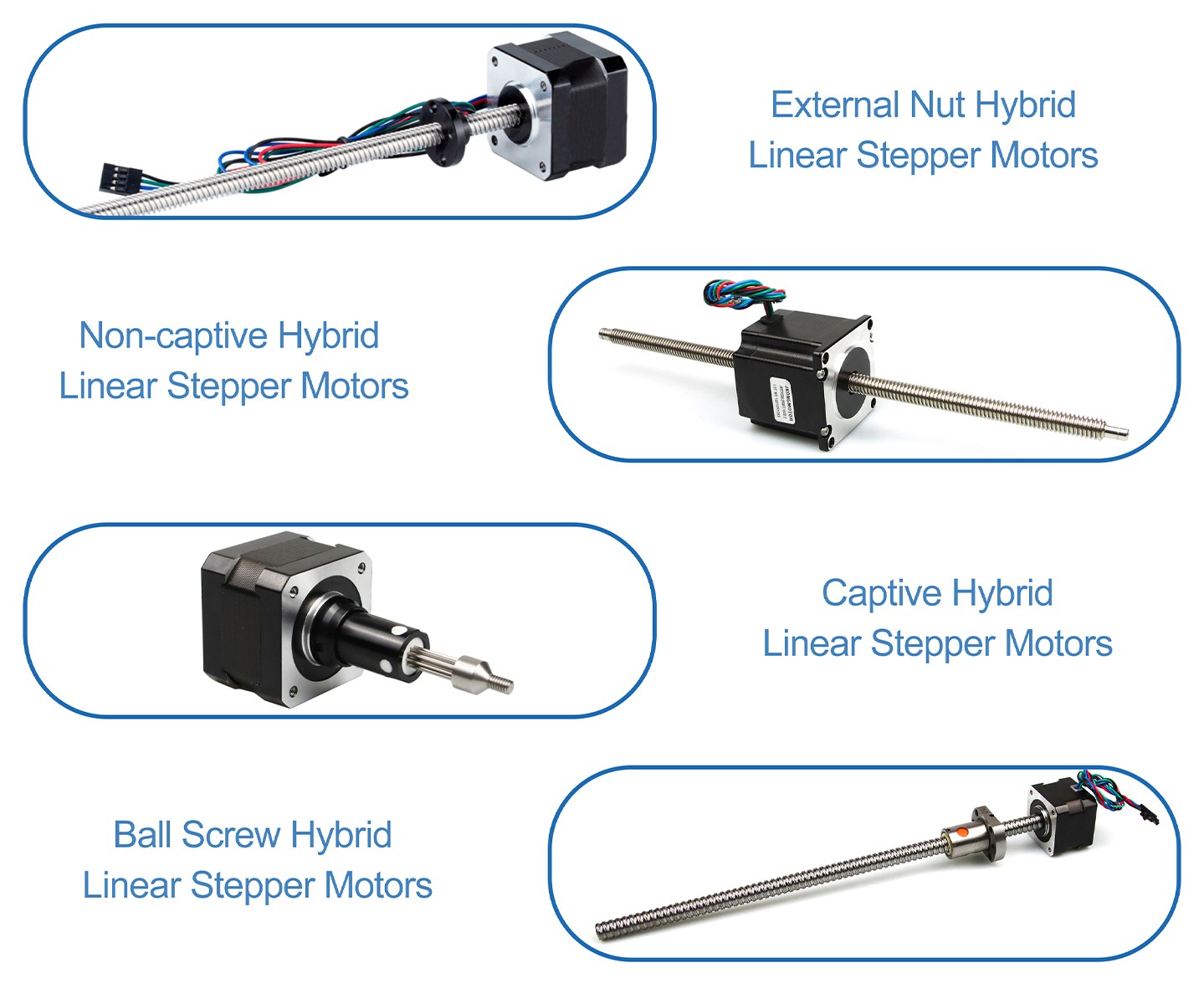 5、Other Stepping Motors Customized Design:
If this motor do not match with your request. Please feel free to contact with us,We can make customized shaft / winding / mounting flange / cable / connector / Encoder / Brake / Gearbox and others. We will works side-by-side with you and your team to design a motor that will fit the precise needs of your application. All Engineering and Support is done in-house.

6、Customized Shaft Types of Step Motors: