Model: CANopen RS485 1.8 Deg 2 phase Nema 17 Integrated Stepper Motor 47 / 60mm Support standard CANopen CiA402

Product Name: 1.8degree 42mm Nema 17 Integrated Stepper Motor

Model Name: Integrated stepper motor controller driver
Size: 42x42mm Stepping Motor with Inteligent driver
Current / Phase: 0.8A ~ 2.0A
Holding Torque: 0.48N.m ~ 0.72N.m
Motor Length: 47mm / 60mm
Product Type: 2 Phase integrated step servo motor
Features:

A new generation of 32-bit DSP technology.
Support standard CANopen CiA402 protocol.
4-way input function terminal, 2-way output function terminal.
The torque decay is reduced, and the speed can reach 3000rpm.
Built-in alarm output for easy monitoring and control.
Intelligently adjust current, reduce vibration, noise and heat, and increase efficiency by 35%.
Voltage range: DC24~36V.
16 adjustable subdivisions, the default is 1000pulse/r.
Excellent high speed and rigidity, perfect integration of servo and stepper.
With overvoltage, undervoltage, overcurrent and other protection functions.
Integrated design with drive motor. Easy installation, small footprint and simple wiring.
General Specification:
Specification

ISM42-C

Series
Unit
Minimum
Typical
Maximum
Output current
A
0.8~2.0
-
2
Input voltage
Vdc
24
24
36
Rated input current
mA
10
10
50
Rated input voltage
V
-
24
24
Pulse frequency
kHz
0
-
200
Insulation resistance
MΩ
100
-
-
Techical Data:

Techical Data
Name
Unit
ISM42-C1
ISM42-C2
phase
Phase
2
2
Rated Voltage
V(DC)
21~36
24~36
Output Current
A
0.8~2.0
0.8~2.0
Holding Torque
N.m
0.48
0.72
Motor Length
mm
47
60
Weight
Kg
0.5
0.65
Insulation Grade
-
B
B
Operating Temperature
℃
0~55
0~55
Terminal Description:
Terminal Description


Pin
Function
Note
Interface Schematic
PWR
Power indicator
Power on indicator

ALM
Alarm indicator
Alarm fishing indicator
X0-X3
4 input terminal
Input/Output terminal, signal power supply 24V, support NPN and PNP two wiring modes, support terminal function software modification
XCOM
Input common
Y0-Y1
2 output terminal
YCOM
Output common
CANH
Communication terminal
CANH communication cable
CANL
Communication terminal
CANL communication cable
+DC
Power input positive terminal
DC24~36V
GND
Power input negative terminal
Input / Output terminal:
Input / Output terminal:
Pin
Name
Function
X0
Input terminal
Input/Output terminal, signal power supply 24V, support NPN and PNP two wiring modes, support terminal function software modification
X1
X2
X3
XCOM
Common input terminal
Y0
Output terminal
Output terminal, the maximum driving current is 50mA, support terminal function software modificatio
Y1
YCOM
Common output terminal
DIP switch settings:
DIP switch settings:
Pin
Sign
Function
1
SW1
SW1: Terminal resistance
2
SW2
SW2-5: Address setting
3
SW3
4
SW4
5
SW5
Power port setting:
Power port setting:
Pin
Name
Function
CANL
Communication port
CANL CANH

Communication line
CANH
CGND
Communication address
CAN

Communication line
NC




GND
Power port
DC

:

24V~ 36V
+DC
Alarm release:
Alarm release:
Error code
Error information
ALM

warning light
Resetting
Err1: (0x01)
Overcurrent or phase-to-phase short circuit
Power-down reset
Err2: (0x02)
Power supply voltage is too high
Lock/Auto reset
Err3: (0x03)
Power supply voltage is too low
Lock/Auto reset
Err5: (0x05)
Out of torlance
Power-down reset
Use environment:
Use environment:
Cooling method
Heat sink cooling
Use environment:
Use environment
Keep away from other heating equipment as far as possible, avoid dust, oil mist, corrosive gas, strong vibration places, prohibit flammable gas and conductive dust
Temperature
0

℃

~ 50

℃

Humidity
40 ~ 90 %RH (

no condensation)

Shock
10 ~ 55Hz/0.15mm
Storage temperature
-20℃ ~ +80℃
Product Parameters:
Feature summary:Low Inertia、Low Noise、High Torque

Place of Origin:china
Minimum order quantity:10pcs
Material Science:stator, rotor, stainless steel shaft, copper wire, magnetic steel...
Applicatin Scope: 3D Printers, Monitor Equipment, Medical Machinery, Textile Machinery, Packaging Machinery, Lighting, ect.
Packing:The sample is packed in carton,the batch with plastic pallet
Delivery time:Standard product: 7-10days
Customized product: 25-30days
Transaction mode:EXW, FOB, FCA, CIF, FAS, CFR, CPT, CIP, DAF, DEQ, DDU, DDP...
Product Dimensions: (Unit=mm)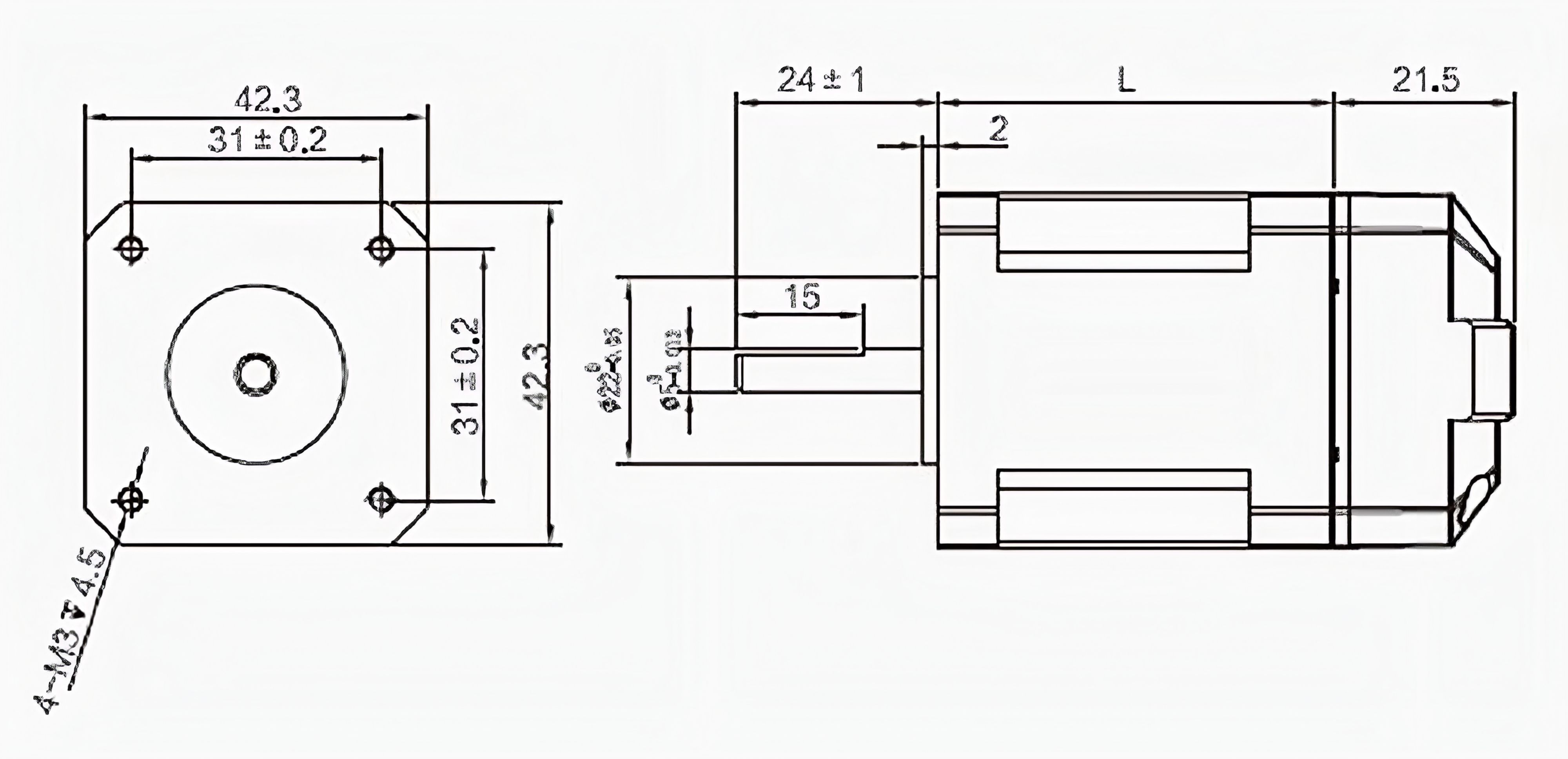 Customized Design:
If this motor do not match with your request. Please feel free to contact with us,We can make customized shaft / winding / mounting flange / cable / connector / Encoder / Brake / Gearbox and others. We will works side-by-side with you and your team to design a motor that will fit the precise needs of your application. All Engineering and Support is done in-house.

Customized Shaft Types: